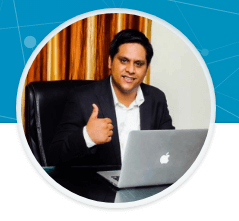 Editor's note: Danish Wadhwa is a strategic thinker and an IT Pro.
With more than six years of experience in the digital marketing industry, he is more than a results-driven individual.
Danish is well-versed in providing high-end technical support, optimizing sales and automating tools to stimulate productivity for businesses.
7 Cloud Trends to Embrace or Fear
It's Time for a Career Strategy
If you watch trends, then you've noticed that many of today's most prominent organizations are migrating their business to the cloud.
Why is this happening?
Well, enterprise cloud providers such as Azure, Google, and Amazon offer outstanding services to small to large enterprises. From an architect to application tester, the cloud has become essential for most use cases.
However, as enterprises shift their business models to the cloud, they face complexity in managing large amounts of data there. And finding ways to secure their data is very important.
But the same challenges don't exist for SMBs who have shifted to cloud computing and are saving a lot of their infrastructure budget by investing in cloud services.
As a result, cloud computing has transformed the way customers, and companies connect. And this new dynamic has revolutionized interactions, queries, and responses. Moreover, it has shifted jobs.
Take a look at these emerging trends…
#1. Cloud Services:
Instead of investing money in physical resources for on-premise infrastructure, companies are more interested in leveraging resources from the cloud on a monthly subscription. The benefit is they only pay for used resources.
And most significant Cloud providers offer infrastructure, storage, software, network as a service; which is why deploying, developing or migrating your existing workloads over to cloud services saves time and money in the long term. But executing this task is not as you think.
Companies need skilled cloud engineers, which is why many big brands are starting to invest more in AWS, Google, and Azure training to develop the skills they need.
#2. Cloud Architect/DevOps Engineers:
Companies hire cloud architects with DevOps skills for developing new applications and to help migrate their existing applications. There is a vast marketplace for cloud architects.
But they need to be skilled in consulting services as well as able to design robust platforms. The knowledge of components and subcomponents of the cloud are extremely important.
Suppose a company is trying to develop a new application in the cloud. This requires the basics of understanding how to provision a virtual machine, and they deploy code to the host.
To do so, companies need to hire cloud architects who understand VM resources that include knowledge about CPUs, storage, security groups – this is also known as infrastructure as a service (IaaS).
On the other hand, for more advanced cloud deployments, the company may prefer to use serverless computing to host their application. This is another skillset altogether that is also hard to find.
#3. Software Developers:
A vast range of Dev and automation tools are available for cloud developing and deploying applications in an automated way. Nowadays, a developer can push code into production with few clicks. Known as CI/CD, this practice also maintains logs of each operation performed.
Another benefit of Cloud is a platform as a service (PaaS), which allows direct execution of your code. You can use PaaS for deploying code in node.js, java, python, c, etc. or any other language.
#4. Quality Assurance Testing:
The QA testing process has completely changed. Now there are SaaS tools for testing that require new skills to use. It's a new world when everything is software defined.
#5. Web Marketing:
Cloud has changed the traditional ways of marketing. Now, marketing tools are available everywhere on the internet. These tools can be used for attracting customers to your website and then tracking their every move and click.
This is also known as analytics, the possibility of understanding customers while closing deals has become easier. You can say that the cloud is changing the algorithm for performing a task by making a work environment smarter and reliable.
#6. Financial Services:
Cloud has the power to change the supply management cycle with a variety of new tools. Cloud companies are offering business intelligence (BI) based marketing and financial tools.
Financial holding sectors like banking, trading, and insurance companies have also adapted their service to the cloud. This enables them to scale faster to their customers' demands.
As you can see, the cloud is involved everywhere and you only need to open your eyes to see the opportunities.
#7. Industries Specific Implementation:
When we talk about the industry, it includes IT, manufacturing, real estate, transportation, biotechnology, robotics, nuclear science, avionics, pharmaceuticals, etc. The cloud is involved everywhere.
Technologies like big data and artificial intelligence when combined with a cloud strategy produce products which can ease overhead.
Medical researchers are currently working on big data and cloud for producing extraordinary results of complex problems. With prediction and analytics, data – someday soon, researchers may be able to develop the cure for fatal diseases using AI.
Similarly, large industries are migrating their workloads to the cloud. Let's talk about the petrochemical industry. The machines used in this industry produce data every second, and it needs to be analyzed. In such industries, data is generated from the planning stage of a production unit to distribution unit.
For increasing throughput of a whole plant, analytics is necessary for the data. This resulting information can be easily managed and used for producing predictable outcomes.
Cloud providers also have tools for tracking vehicles, carrying end products from their industrial complex to warehouses or vendors. Companies can even track and provide useful data of their employees in the field. All these jobs have become easier with the cloud.
My Final Thoughts:
You can fear the change that is happening but understand this – Cloud is everywhere. Or you can embrace the cloud and grow.
Look around and you see it has created new opportunities. No matter which sector you are interested in, it is likely to be somehow connected to the cloud.
The current trends of IT demonstrate anything, it is that cloud computing will play a major role in the future. Moreover, the manpower and skills required for the future will also increase.
Recent reports indicate that the number of cloud service providers are increasing capacity to accommodate the demand. Global giants like Google, Amazon, and Microsoft are taking major steps to take their clouds service further.
But that's now all, right behind the big brands are smaller providers such as DigitalOcean, Linode, and VULTR who are also doing their part.
All these players total a huge investment in research and development along with strong demand for managerial and technical skills to fill the need. It's time for a career strategy.
---
Danish – thank you for sharing this interesting article about how the cloud will affect jobs in the future and how we can be ready for the change. If you have comments and feedback for Danish, please leave them below.