Should Your App, Website or Blog be Powered by VULTR VPS?
If you're wondering if a virtual private server is a good alternative for replacing your costly shared hosting or cloud provider, then you're in the right place!
That's right…
Because this VULTR Review goes into the details of my extensive testing:
The Ease of Use (What's the sign-up and navigation of VULTR platform like?)
Platform Features (What's offered once you have created an account?)
Cloud Services Offered (Does VULTR offer more than just VPS?)
Pricing for VPS Instances (Does VPS pricing really start at $2.50 per month?)
VPS Performance (How does VULTR VPS compare vs. shared hosting?)
Once we answer these general questions, then we'll dive deep into the PROs and CONs, followed by even more answers to your FAQs…
And finally, you'll see how VULTR rates against other VPS and cloud platform leaders such as DigitalOcean, Linode, and Cloudways for WordPress hosting.
WOW!
I can't believe we're already at the end of another review and on part #5 of the VMinstall VPS series.
Spinning up VMs on cloud platforms for my reviews has been a fantastic learning experience.
For today's lesson, I've spent days analyzing the competition to create the best VPS reviews for 2018.
I think this might be the solution I have been looking for to replace shared hosting…
VMware News
Before we get started with this VULTR review, here's something that caught my attention this week.
Did you see the recent news that VMware refuses to support their products deployed on Azure?
It's nothing to concern yourself with if you decide to use VULTR because their servers use KVM for a hypervisor, not ESXi.
Although, it's good to know in case you decide to go this route later on…
Now, let's watch a video…
VULTR Platform Tour
Comparing VPS Providers
Our goal for today is to see how VULTR VPS matches up with other popular virtual private server providers, i.e., DigitalOcean and Linode.
And to make this review useful for cost-conscience bloggers and small business website owners like me, we're also going to skip comparing VULTR with Google Cloud, Amazon AWS, and Microsoft Azure.
And here's why.
Because we learned in our earlier DigitalOcean and CloudWays reviews that big brand cloud resources are at least 5x the price for the small VMs with a similar system configuration. So for now, we're saving them for later.
VULTR Review
According to what's in the Google search results, VULTR offers global cloud hosting with brilliantly fast SSD VPS cloud storage. And they are 100% KVM virtualized.
Click…
The VULTR homepage is clear and easy to understand. The one thing I see in common with all the VPS providers I've reviewed is they all Boast about Fast SSD Performance and quick deployments.
Homepage
First, let's discuss my feelings from the first impression you get when you see VULTR's homepage. It's very well designed for a smooth user experience (UX).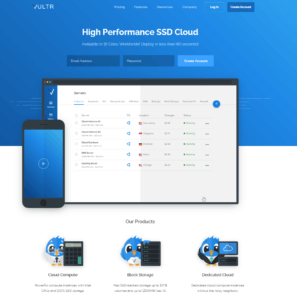 My experience tells me this is a first class operation that keeps it simple and easy for customers without a lot of technical expertise. They use big bold words and buttons to help anyone create an account. Nice.
Create Account
Speaking of creating an account, here's the signup form. Enter an email address and password to get started.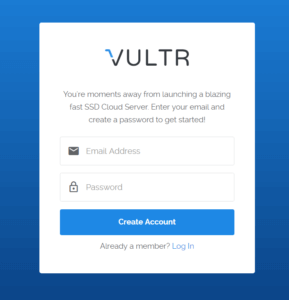 VULTR's sign up form is straightforward to use.
Once I signed up, then they collected the rest of my account information such as full name, billing address, the method of payment, etc.
But what I found interesting was how many ways I could pay for a VPS.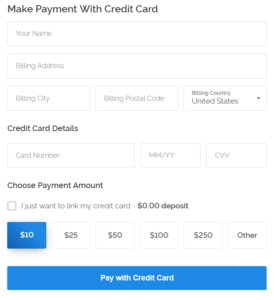 Payment Options
VULTR has several payment options for anyone and everywhere.
You can pay with:
Credit Card

PayPal

Bitcoin

Alipay

Gift Code
My choice is usually PayPal, but I can see the benefit of having all these billing options for customers to use. Some VPS providers I've tested only accept credit cards.
So now that we've created a VULTR account, added our personal information, and a billing method, let's get to work and see how easy it is to deploy a virtual private server.
Deploying A New Server Instance
Before we dive in, let me review the UX. As you can see from my screenshots, VULTR has done it again with clear and easy instructions for beginners to deploy server instances.
And as of this VULTR review, there are 15 locations globally where you can host your VPS or application…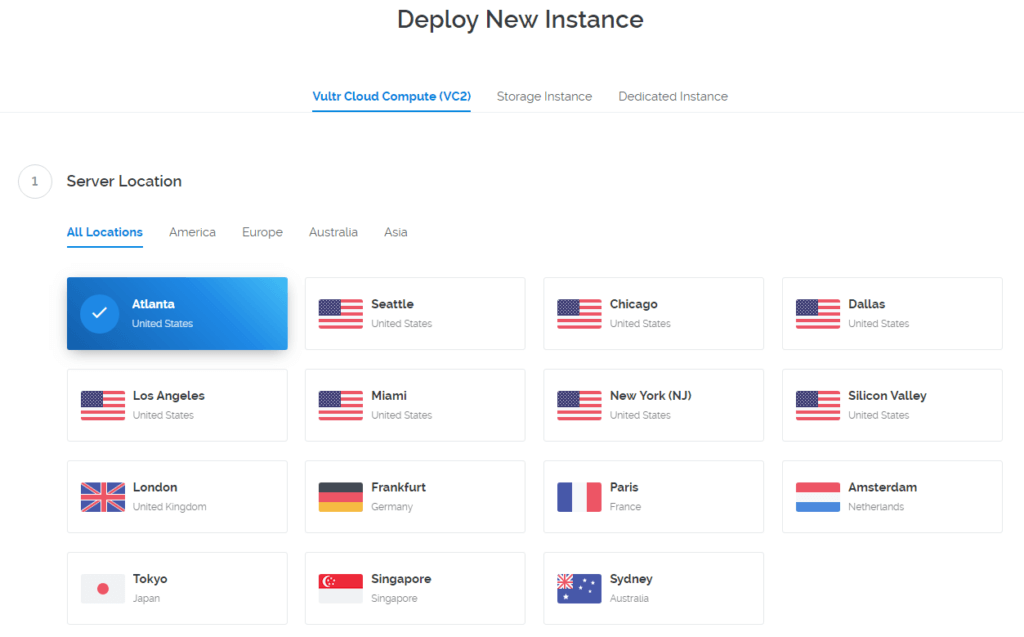 Now let's see which operating systems can be deployed with your server instance.

If you want a 64 bit OS, I count 7 Linux/Unix and 1 Windows button. Windows includes 2012R2 and 2016, and there are a few Linux installs that include multiple versions.
And for the 32 bit OS option, I count 3 buttons for Linux that include – CentosOS 6, Debian 7 and 8, and Ubuntu 17.10, 17.04, 16.04 and 14.04.
Overall, VULTR does an excellent job giving customers operating systems to choose. I know this is a big deal for some people because I've been behind the scene and know what it takes to create the automation scripts needed to deploy an OS on a VM.
It takes highly skilled Linux Admins and DevOps Engineers to do this type of automation.
Good job, VULTR team!
Now, let's look at the applications you can have deployed with your VPS instance.
Application Options
For years hosting companies like Godaddy have been allowing you to deploy applications on your hosted instance. So before we review these applications, I want to give beginners a little bit of explanation behind what I see going on.
Here are the applications you can install with your VPS deployment.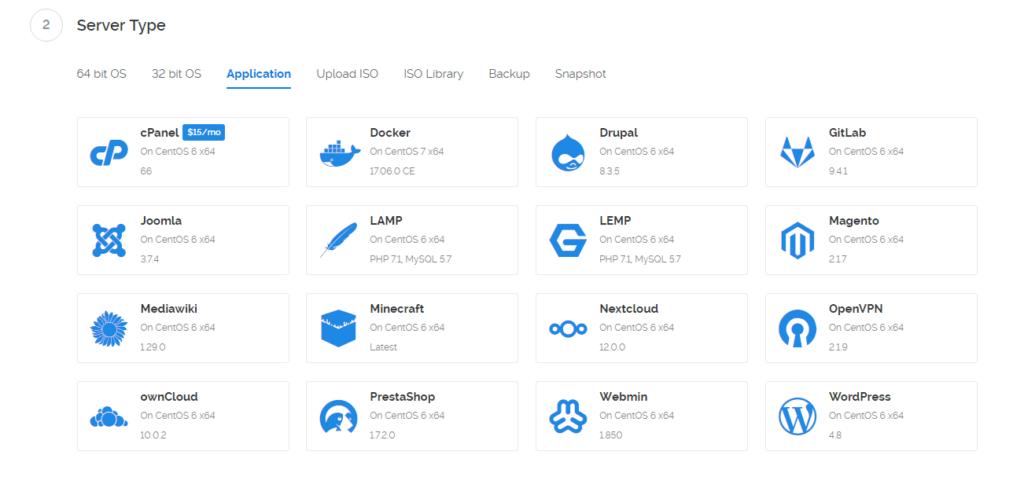 Before we move on, I want to point out an essential application I see at the upper left.
Performance Benchmarks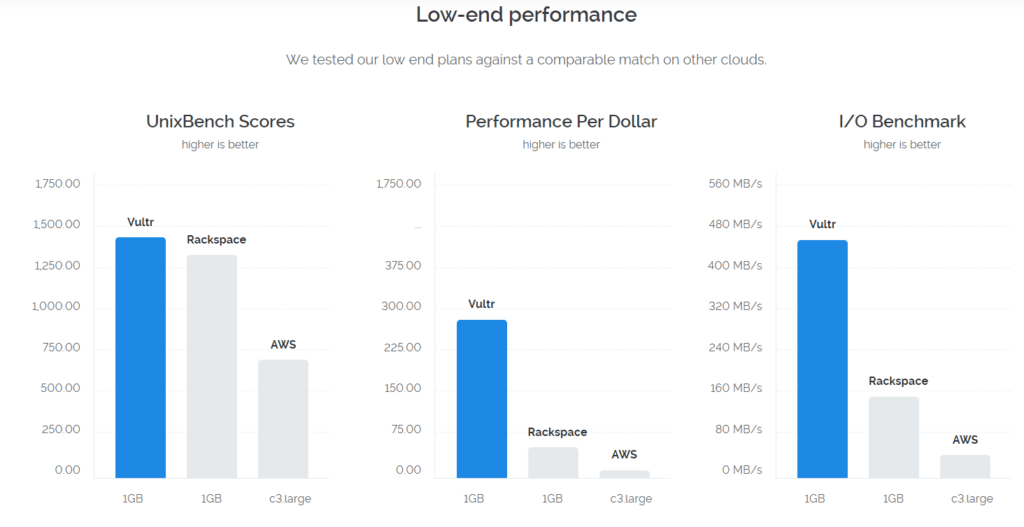 VULTR Pricing
We covered creating an account, deploying a server from multiple locations, and the different applications you can automatically have installed on your VPS. Now we're going to see how much a VULTR virtual private server will cost you.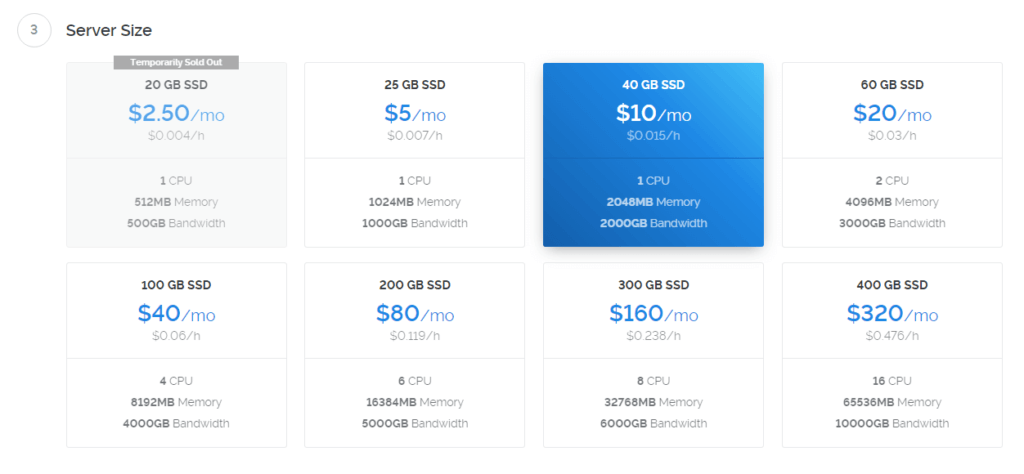 Wow, $2.50 for a small VPS – darn, out of stock!
I'm not surprised that they are "out of stock" since it takes the same amount of overhead to create a $2.50 small VM as is does to deploy a $320 Monster VM.
The amount of CPU, memory, and disk space may be more significant for the monster, but the infrastructure cost such as support, management, network IP, and directory services are the same for the cheap VPS.
I wonder if this is more of a bait and switch?
All that aside, the next size VPS will cost you $5 for 1 CPU, 1 GB memory, 25 GB SSD space, 1000 GB of bandwidth, which overall isn't a bad deal either because this same configuration would cost about 5x on AWS.
VULTR PROS And CONS
Let's start with the PROS because I think VULTR is doing a fantastic job and they have built an excellent and affordable cloud platform (Sorry for my bias but this is what I do for a living).
PROS:
#1. Account creation on VULTR is by far the easiest I've had to deal with while creating my VPS series. But, I also want to note that they also offer 2-factor login in case you want more security.
#2. The VULTR platform interface is easy to use and navigate with big bold labels and menus, as well as clearly marked buttons for their services.
#3. 5 ways to pay for their services is the most I've seen so far, although my preferred method of payment is PayPal, which is one of the payment options available.
$4. Their datacenters are geo-located around the world which is good because Google doesn't like slow websites and neither do users. Having your site hosted as close to the user base is the best option for low latency.
#5. They use KVM which is a very good hypervisor for hosting virtual machines. And because they don't have to worry about paying for costly VMware ESXi or Citrix XenServer licenses, it allows them to offer lower prices.
#6. I'm no Linux Admin, so cPanel is a huge PRO for me because I have had to manage multiple websites via CLI and it is not fun. I'd rather click and install than type commands. cPanel saves time and helps avoid human typo errors.
#7. For some, it might matter that VULTR is a U.S. based company with their headquarters in Matawan, New Jersey.
There are a lot more PROS to list, but for the blogger or small business use case, this likely covers your needs.
CONS:
#8. The Out of Stock is a turnoff. I've logged into VULTR serval times since creating my account months ago, and the $2.50 VPS has always been out of stock. Now I'm sure it's only my bad luck, and there are times when it is available but my recommendation to the powers-that-be is to either stop offering this cheap VPS option or fix whatever the problem is that keeps these small VMs from being available. As I said, I do this for a living and get it on the overhead, but this looks like a clear case of bait and switch.
#9. This is not a big deal because everyone charges extra, but it would be nice if at least a free weekly or monthly backup were available just in case a customer's website is hacked, and a full restore is needed. Without a backup, the webmaster is out of luck. Hence, for beginners reading this – I recommend always paying the extra fee for a full backup of your VPS.
These are the 2 CONS I've run into that would be a factor for bloggers or small business users with a tight budget.
Now, let's rate VULTR, DigitalOcean, Linode to see who offers the best VPS platform…
Thank you for your time and I hope this VULTR review helps you decide on a VPS platform.
Please bookmark this review for later, share it on social media, and leave comments or feedback below.