This guide has a slight twist from my usual high-tech audience, but it's still relevant to my ultimate mission of teaching how to focus on a "great" customer experience.
I've built a lot of websites and want to share this experience with Mom & Pop Shop Owners wondering which is the best website platform for small business use cases like theirs.
Let's dive in…
Which situation applies to your business:
You're debating whether you should replace your old static HTML web page with something new.
You're really behind the times and don't even have a website yet.
You're thinking of adding a blog to an existing website that is already working.
You have a CMS that isn't working, and you need something better.
You're looking for a small business website package that you can get up and running today.
By the time we're done, you'll have a clear strategy for each of the questions listed because like you, I want a website that gets traffic and provides value for my readers.
It's no longer good enough for your business site to only have a picture of the family or staff posing together, or a photo of the owner and their BIO on the homepage. (This worked well in the late 90s!)
If you want a website that's going to help your business grow, then it needs to be helpful and answer questions about real problems that your prospective customers are dealing with right now…
You need a website that tells Google when their bots crawl your web pages to list your site on page one of their search engine result page (SERPs) and send you traffic because you're the authority who can help solve the problem.
Here's an example:
If I'm a back pain doctor and someone types "back pain in the lower back" into Google, then a link to my web page about lower back pain should be one of the top 3 SERP listings on page one. The same thing goes for "fix leaky sink" or "car repair near me."
A high ranking web presence takes time. It's the result of having invested time and money into creating the right articles and using search engine optimization (SEO), but before you can get there, you need to build a website. Later, I'll tell you about Marcus…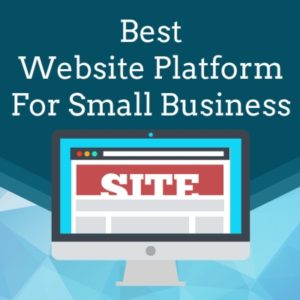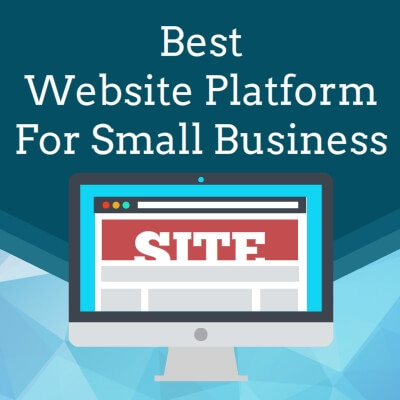 Choosing The Best Website Package For Your Small Business Needs
How to choose the best small business website packages:
Ease of use for beginners – If you're doing it yourself (DIY) you want setting up a web page to be easy.
Low cost of entry – Aside from monthly or annual hosting, and your domain name, you don't want a lot of fees for having a website.
Adaptable – You want a platform that is easy to manage and customize for lead generation and sales pages or full out marketing campaigns and sales funnels.
Scalable – When your website grows you want to be able to quickly add more horsepower without having to break the bank to upgrade.
Proven – You want to be able to find support, plugins, technical guides, and examples of other successful websites using the same platform. Proven also means it's safe and can be backed up and restored as needed. And it says that there are tools available
Now:
I could give you a list of website platforms or even create a cool chart about website packages that includes infographics, but why do that when I know most web designers use WordPress?
Sure, some people will choose a different content management system (CMS) for managing their small business website, but that's a small minority.
If your goal is to build an eCom site, you might want to look at WooCommerce alternatives such as Shopify or Magento because I can't speak for the best website platform for eCommerce.
Let's be fair.
I'll admit, I'm biased. There are probably WP alternatives that work fine, but you know what – why fix something that's not broken?
WordPress works great for websites.
With WordPress as your web platform, you can host your main website that has your company history and Bios. And you can add a blog, FAQ, ticket system, scheduling system, membership, eCommerce, and vlog all with one installation, granted you have enough computing resources to handle it all. And you can do a lot more with your website by adding free or paid plugins…
I Want A Web Site
To get started with a WP website, it's about $15 per year for the domain name and about $5 per month for premium hosting, and you're good to go…
Using WordPress, you can also make your site AMP (Accelerated Mobile Pages) compatible if your target audience is all mostly mobile users.
Go ahead and finish your research.
Then when you're done, please consider using WordPress because it works and meets all the 5 requirements I listed above for choosing the best website platform for small business use cases like yours.
Six Step Website Checklist Guide For DIY Business Owners:
Now that we've covered the best choice for a website platform, here's a checklist to guide you along the way while getting your new website started.
Assuming that you already have a business name, I am going to walk you through some of the other steps you'll need to take or consider before you get going.
Some website packages will cost your thousands of dollars for doing this work for you.
1. Domain Name – Finding the right domain that is relevant to your business or service is significant.
Maybe you'll even get lucky and end up with your business name as the domain name. If not, then pick a domain name that is brandable like PoolServiceAll.com or LivingObscure.com so when it shows up in Google results the person searching can quickly see the relationship between the brand and the search term.
I like using GoDaddy for buying my domains, but there are many domain registrars that all charge about the same price. GoDaddy normally has a special discount on new purchases.
Also, another word of advice is to only go with a ".com"  if at all possible. They look more professional than ".xyz" or ".guru", which means they get more clicks.
2. Website Hosting – Hosting is another vital piece of the puzzle, and this can go in many different directions too depending on your technical level.
You could go with a virtual private server (VPS) and do all the technical server administration tasks yourself, or for a non-technical business owner who just wants a quick and easy way, hosting is easiest.
For techies, my advice here is to use a good VPS provider like VULTR that has an option that allows you to install cPanel.
And for the non-techie, a premium hosting company such as SiteGround is also a good choice.
Both of these hosting options will allow you to scale up the capacity of your computing power as your website grows and starts getting waves of traffic.
I use both VULTR and SiteGround for websites I manage, and I can say with all honesty that they have their benefits over cheaper hosting or VPS alternatives.
Low Cost Web Design That Works
Website Design – Today's Internet surfers are Tech Smart, and having a bad web design is the one thing you need to avoid.
A clean, professional website speaks volumes about business branding. And it adds an essential element – trust!
Think about all the web pages you may have looked at before you found this page.
Did you click the back button on any of them because you felt unsafe by how the webpage looked?

Web design is critical, and if you're going to DIY, them using a premium theme is a low cost way to make your site look amazing and trustworthy.
I use themes from My Theme Shop for most of my websites because they're low cost, easy to install/set up, simple to customize, load fast, and look great.
VMinstall.com used to run on the Genesis Framework until recently when I move over to the Writer theme from My Theme Shop.
3. Relevant Content – As I said in the Intro, your web page must be more than a bio and picture of your staff standing in the parking lot.
Having a WordPress website, that runs on the fastest server with the best theme and a rocking:
homepage
about page
contact page
clear phone number
order button
and lead capture form
are essential, but nobody will read them if you don't have traffic.
And unless you plan to buy advertisements on Google, Facebook, or another ad delivery system, then getting organic traffic from search engines is your lifeblood. Which is why learning to write 4 crucial types of posts is vital for your traffic strategy.
You need to set up a learning center and start publishing:
How-to articles that show how your products and services solve problems.
List posts that help visitors find helpful or related information.
Write product and service reviews that highlight essential details.
Compare similar products or services that help your customer decide.
And last but most importantly, publish content on a regular schedule.
Think about this page and look at how it includes all of the posting types in a single article, as well as rich content such as images and videos.
Probably the best teacher for helping set up a content strategy is Marcus Sheridan (The Sales Lion).
Marcus mastered the art of getting traffic to his above ground pool service website when everyone was giving up after 911.
Here's a link to his book on Amazon They Ask You Answer: A Revolutionary Approach to Inbound Sales, Content Marketing, and Today's Digital Consumer.
4. Keyword Research – Without knowing which keywords or phrases your customers are using when they search the Internet, you're wasting precious time and energy writing content.
An excellent, high-quality "How-to" or "Best-of" article with 1000 words has the best chance of ranking on search engines if the content is targeting keywords or phrases that people are searching for and that have low competition.
The second part of what I just said is what new website owners need to care about because you don't want to write for hours on a post that focuses on keywords that are also being targeted by BestBuy, Amazon, Walmart or other popular websites such as Youtube.
When the first page of the search results for a keyword is filled with links to prominent ecommerce stores, then you're not going to see many visitors from your hard work.
Why KWFinder?
Which keyword tool is the best for small business owners?
I've probably used or tested every keyword tool there is, and in full disclosure, I'm not blogging for a living or counting on my blog to pay my bills. Otherwise, if I were, I'd subscribe to SEMrush and pay the $100 per month, but for a part-time blogger like myself or beginners, then I've found KWFinder to be the ideal tool, ~$50 per month.
You might want to sign up for a free trial of both tools before you decide.  KWFinder lacks many of the advanced features offered by SEMrush. However, I think it still does the job of starting out and finding low competition keywords, as well as tracking their ranking progress which is necessary for your website's success.
Important: SSL Certificates And Security
Critical topics DIY or beginners need to know up front are SSL Certificates and Website Security.
5. SSL Certificates – Let's start first with SSL Certificates. I'm not going to go into the deep technicals about this topic, but for a business website, it's the HTTPS customers see at the front of a URL.
Here's what I mean. In your browser go to Google or Amazon, and you'll see the address has HTTPS and a green lock icon because they're secure websites where users are logging in and sharing personal data.
This is crucial because customers who are Tech Smart know this means better security, which translates to more trust.
For a personal blog, this isn't as important for security as it is for SEO. But for business or eCommerce sites, not having HTTPS in the URL is a game stopper…
This may sound more complicated than it needs to but for any new website these days, it's easier to add SSL when the site is set up because changing all the links later becomes a big technical job and there is a risk of breaking essential links from blogs linking to your site.
Also, be aware that there's an additional fee for SSL. Some SiteGround hosting plans come with a Wildcard Certificate and a free cert option.
6. Website Security – Now let's wrap this up covering security, This has been a scary topic lately due to several major businesses have their websites hacked.
For WordPress or any website, there are always risks of a new vulnerability showing up that allows someone to access the internal code of the server operating system, web services, database, or files.
It's important to use a quality hosting company that regularly patches their servers, and services such as MySQL, Php, Java, Apache, etc. when new security patches are released.
Also, as the webmaster or website owner, you have the responsibility for ensuring your WordPress, plugins, and themes get patched or updated. Updating is an ongoing process that never goes away; it's the price every business pays for having an Internet presence.
BTW, for a fee, there are 3rd-party services for WordPress websites that monitor, scan, and patch automatically.
Comparing Website Platforms For Small Businesses Comes Down To Results
As you can see from the long list of topics we covered, finding the best website platform for small business owners is only a piece of the overall solution, the other parts are Branding, Website Design, Content Creation, Updates, SEO, SSL, and Security.
But WordPress with its Pros and Cons has proven itself for years as the platform of choice for many of the Webs most prominent blogs and websites because it delivers results.
As we conclude, I want to circle back around to my questions at the beginning of this guide and ask you if you agree with me?
Do you think WordPress is the platform if you're going to:
Migrate an old static HTML site.
Convert from another CMS.
Start a fresh website from scratch.
Add a blog to an existing website.
These are all great use cases, but here's the bottomline – WP is the all-around small business website solution because of results…
Thanks for reading! Please leave a comment or share the link on your favorite social network!