VMware Backup Software
Free Tool – Trilead VM Explorer for ESX/ESXi  Trial Download >>> Trilead VM Explorer <<<
Trilead VM Explorer is a free (public beta) VM management tool that works on VMware ESX/ESXi. I haven't had the time to install or evaluate VM Explorer but just going over the features, it looks like a worthwhile product for those shops that don't have the budget for vCenter.
VM Explorer allows admins to manage up to 5 hosts with the free version and there are a few features which really make it worth installing, image backups for example. Any one that reads my blog knows how I feel about a good VM image backup and VM Explorer gives you that for free.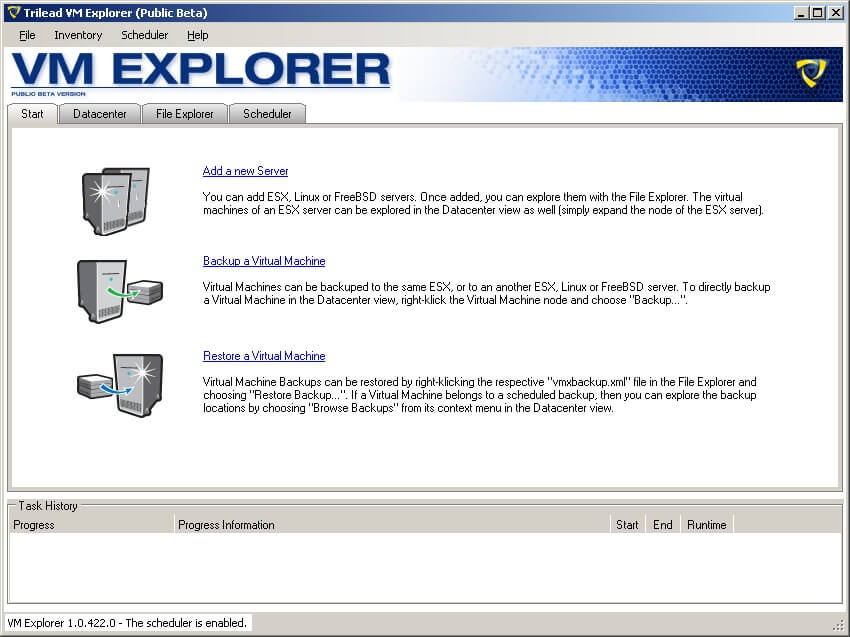 I'm sure there is a point where host environments will out grow VM Explorer and have to choose to upgrade to the paid version, or bite the bullet and purchase vCenter, however, if you're a small shop and have 5 hosts or less, it looks like a fantastic product.
For those admins who started working with the first releases of VMware ESX and Virtual Server back before it was owned by EMC,  there weren't any tools like this for us. ESX was then – and still is – a bear to manage without a vCenter or 3rd party tools.
Fortunately for today admins, virtualization has matured and there are plenty of free tools to help manage it "in the beginning" that is!
Here's a list of VM Explorer features (see table below):
Multi-Server Management – The graphical user interface of VM Explorer allows to connect to multiple ESX, Linux and FreeBSD servers at the same time in the same interface.
Server to Server fast copy – Allows you to copy files directly (drag&drop) between ESX, Linux and FreeBSD servers at full speed: throughput is only limited by the available network/storage system bandwidth.
ESX to ESX/Windows/Linux/FreeBSD/SAN Backup & Restore – Our unique ESX to any backup feature allows to backup virtual machines to other ESX Servers, Linux or FreeBSD servers. Of course, virtual machines can also be stored to a SAN (ISCSI or NFS) directly attached to an ESX. Furthermore, backups can also be saved on the Windows machine where the VM Explorer is running.
Support for ESX 3i – VMX version 1.5 includes beta support for the next generation of ESX servers.
File Browser – Browse instantly your ESX/Linux/FreeBSD servers' file system and copy files from one to the other just by drag & drop. Supports also up- and download to the management station.
Integrated SSH Client – The integrated SSH Terminal Client allows you to configure all your Unix/Linux based Servers trough SSH, all within one software.
Job Scheduler – The integrated job scheduler allows you to perform unattened, periodic backups of your virtual infrastructure.
Integrated ESX Snapshot Manager – Create and remove snapshots directly from within VMX.
Dynamic Compression – To make use of slow network links (e.g., for wide-area replication) or to save space on the target system, backups can be dynamically compressed. VMinstall.com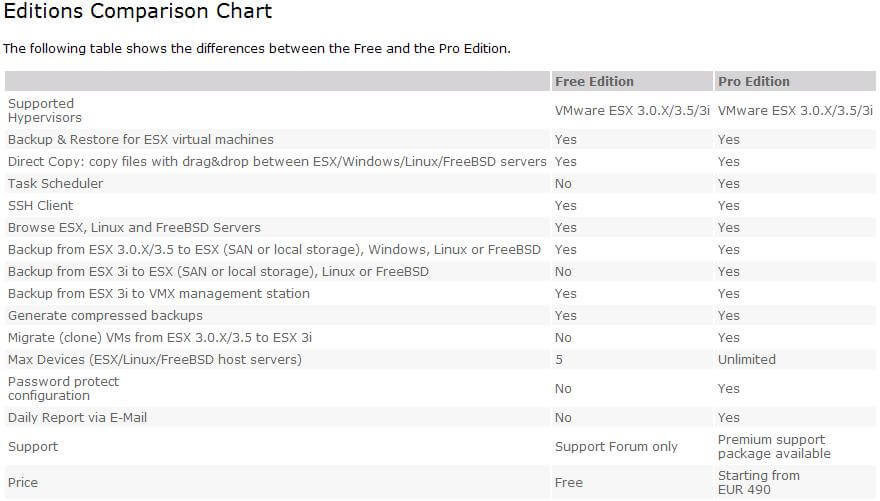 How to Add ESXi to Trilead VM Explorer Video
Read the Trilead VM Explorer 4.0  Factsheet or you can check this post on 3 Alternative vSphere Backup Replacements For VDP.