Good free tools for VMware VI are not easy to come by so I thought I would write a post about one I think may have some usefulness. It's from VKernel and it's called SearchMyVM.
According to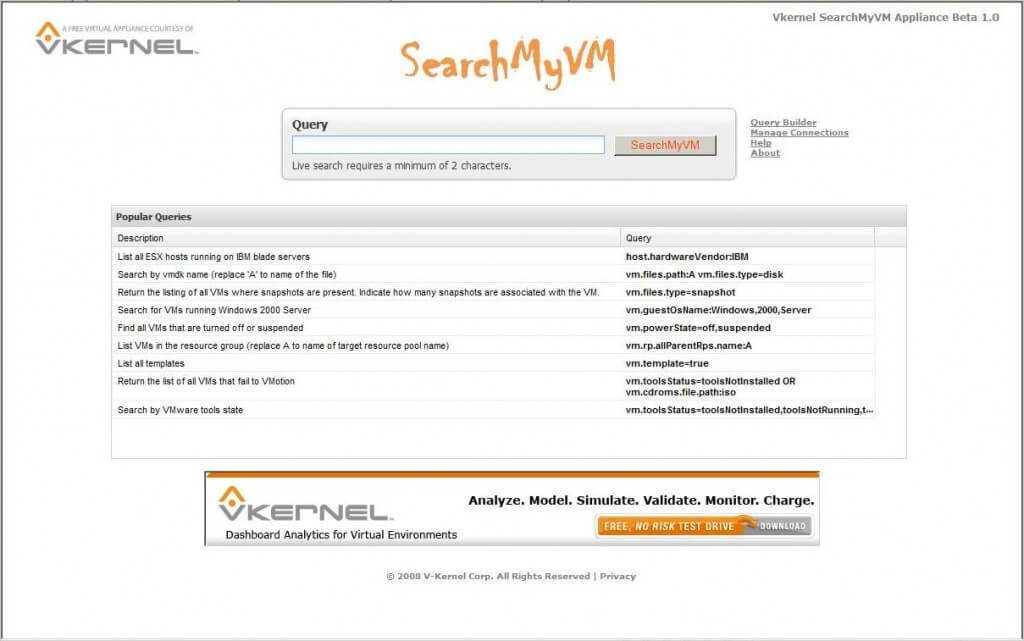 VKernel here are the benefits:
FREE "Google–like" SearchMyVM tool
Quickly find info in your VMware data center
Gain more insight into your environment
Save significant time
The tool, like other VKernel downloads, comes already packaged as a VM that just needs to be imported into your VirtualCenter (vCenter or ESX). Once imported and booted, do a quick configuration and just open your browser to the IP address you have given the tool. Then create a custom query for your search, a good example listed: "Return a list of all VMs that fail to vMotion".
The tool release is version 3.0 and there is pretty good step-by-step instructions for the installation guide.
If you'd like to try SearchMyVM for yourself here is the link to VKernel <Download>
Do you know of a free tool that you'd like to recommend for VMware, Hyper-V or Xen? Please let us know with a quick post.