This Data Storage Server is BAD News for Big Storage!
I think you'll agree with me when I say, "There's never enough storage on-hand for backups, archives, file shares and virtualization…"
Ever since I unboxed a QNAP I've been obsessed with how amazing they are.
I love technology and QNAP Turbo NAS Rocks! And not just because it saves $1000s.
Imagine a data storage server that can be used like a Swiss Army Knife to solve your storage problems at home or the office…
But before I get ahead of myself…let me give you a little more information about QNAP, then we'll dive into why Turbo NAS Rocks!
What is a QNAP?
QNAP is the brand name – but I would consider them white box storage per-se since they are not a big storage brand like NetApp or EMC. And yet, I would say they are a big brand based on how many 4 & 5 star reviews they get on Amazon.
Did I say yet – aside from being a NAS – they are also a desktop, server, virtual host, cloud backup, multimedia hub and a lot more? This is why I refer to them as a "Swiss Army Knife!"
In technical jargon, a QNAP is a data storage server for small, medium, and large workloads.
Would you like a peek at the software QNAP uses? Click here to test drive QTS and comment below what you think of it…
About QNAP Systems, the Company
QNAP has been around since 2004. They have offices all around the world. And in the U.S. they are on the West Coast at: 168 University Parkway, Pomona, CA 91768 – Tel: 1-909-595-2782. Or you can visit them on the web at: www.QNAP.com.
If you're looking for white box storage vendors you can start looking on Amazon under Data Storage.
White Box Storage with HUGE Potential
There are a 100 places we can begin this review. Like I said, QNAPs are devices capable of so many uses.
Let's keep it simple and focus on 5 important use-cases that solve storage problems faced by many IT organizations.
List of common storage problems:
Never Enough File Share Storage for Desktops
Costly Data Storage Backup and Archiving
Costly Storage for Virtualization (iSCSI/NFS)
Costly Virtual Desktop Solutions (VMware/Citrix)
BIG Brand Storage Vendors Are Eating Up Your Budget
Do these storage problems look familiar? You're not the only one feeling this pain. Let's see if we can solve them with a QNAP Turbo NAS…
1. File Share Storage for Desktops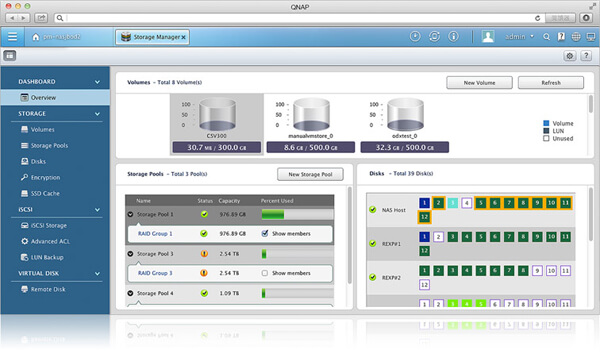 (Shown above is the flexible volume setup)
Depending on the size of your operation, QNAP has a number of size options that can be easily turned into shared storage for storing files. ..
Look:
For small businesses or home offices, there are 2, 4 and 5 bay options that can be connected to a 1GB or 10GB network and then accessed like a traditional CIF share.
These smaller NAS devices can be customized to use low-cost 1, 2, 3, 4, 5, & 6 Terabyte SATA3 drives for space. And to add performance all you do mix in SSD storage to boost the IOPS by using the solid state storage as cache.
The 2 bay QNAP Turbo NAS can run RAID 0 & 1, and the 4 bay and larger options can use various fault tolerance configurations depending on your level of desired redundancy.
For example, you can run a 4 bay with RAID 5 + 1 spare if you wanted.
Here's a diagram of a basic shared NAS configuration.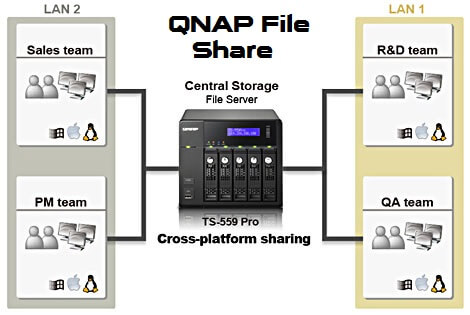 Whether you are a single user needing a safe place at home to store your files, or a business with a lot of users on Windows, Mac, or Linux systems, QNAP has a solution that can be customized to fit your needs.
Here's a quick summary how you can use a QNAP Turbo NAS as shared storage:
Storing tradition work files on a shared network
Creating a personal music and videos cloud
Storing security surveillance video
Storing large video or other multimedia files
As a small 2 or 4 bay unit for personal use
As mass storage for a large organization with 100s of users
What do you thing so far? Now let's backup these file shares…
2. Data Storage Backup and Archiving
Data backups are always a big deal. Especially when it comes to costly tapes and library hardware.
If you are like most IT operations, then you are backing up everything and saving it forever. This is ridiculous and costly.
But it's good for vendors, right?
Wrong:
It's also a never-ending job fixing and updating tape drive software and hardware. So let's solve this problem now!
QNAP NAS offer a number of options that can easily be turned into mass storage for creating a virtual tape library.
Below is the traditional way QNAPs are used with backup software, but you can customize this as required.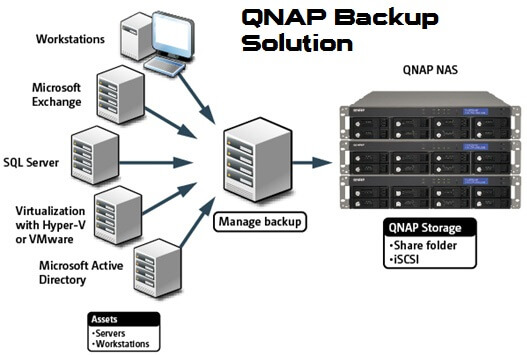 Can these white box storage shelves scale for large environment?
Yes – Depending on the backup schedule, you can calculate the storage requirements and custom build a mass storage solution with 100s of terabytes using 8, 12, 16, or 24 bay units running low-cost 6TB SATA3 drives. And when you need more capacity, just add an expansion unit.
Can it be used as backup storage for VMware and Hyper-V?
Yes – Not only will this solution work with your current backup software but QNAP also works with Veeam to backup VMware and Hyper-V.
I know from my experience how painful backing up VMs can be, especially if you are using a shared solution. QNAPs are affordable enough that you can dedicate separate units for different workloads – VMs, databases, files shares, etc…
Can these white box storage units backup home users?
Yes – And for home users, QNAP has an app especially for us. It's called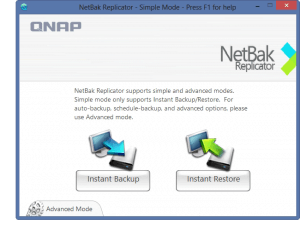 NetBak Replicator and it's free of charge with the Turbo NAS.
With NetBak Replicator you can easily back up files from Windows PCs. It will backup entire disk drives, documents, pictures, music, videos or whatever.
It only takes a few clicks to schedule backup jobs from multiple PCs to a Turbo NAS.
NetBak Replicator also supports backing up via FTP through the Internet.
And for Mac users, QNAP has an app called Qsync that can synchronize files from multiple computers. It creates a  "Qsync folder" in your device where you can simply drop files, and synchronizes the files to all your devices linked to the Turbo NAS.
Are there any more backup options?
Yes – You can also install a number of apps on the QNAP and turn the device into your own backup cloud. And if that's not enough, QNAP integrates with 3rd party clouds to backup your local backup up to the cloud for offsite safety.
Thoughts? Now let's look at a storage topic that has been a big problem everywhere I have worked.
3. Quick and Easy iSCSI/NFS White Box Storage for Virtualization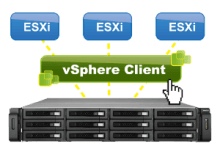 Storage for virtualization has to be everyone's favorite storage problem for years…
Why do I say this?
Because only until recently have there been real solutions available  to solve the problems most IT organizations have gotten themselves into by oversubscribing there NAS or SAN units with 100s of IOP hungry VMs.
If solutions exist for virtualization, why is storage still a problem?
The simple answer is cost. Though there are some really good products on the market today you will pay dearly for them, especially if they are all flash. Unless you are getting really good discounts, you couple be pay $5 – 15 per gigabyte after you factor in all the special licensing costs it could be even more.
Is QNAP Turbo NAS the fix?
Well, if you are not hung-up on brand names, then these low-cost network storage devices can be customized for most VM workloads.
For example: A QNAP 12 bay unit can be loaded with 10 – 1 TB SATA3 drives and 2 SSDs. And you can put 256 GB of flash cache on top of this.

With this configuration you have both mass storage and you have high performance. The kicker is you can even switch things around and buy 8 – 3TB SATA3 drives (higher capacity) and 4 SSD, then put the SSDs in front of the SATA3 drives for more cache to boost performance.
You don't need to be a rocket scientist anymore to set up storage for VMware, all you need is the willingness to think out-side-the-box.
How much does QNAP storage cost?
The estimated price on the setup above is less than $1 per gigabyte. And here's another kicker, you can get all the parts to do this on Amazon without fussing around with vendors. You can also buy the extended support on Amazon.
How does the storage connect to ESXi?
QNAPs come with multiple NIC ports and storage can be setup to connect via iSCSI or NFS.
How's that for a white box storage solution for VMware…Are you starting to feel any pain relief?
Are there any caveats? Yes!
Before you sign into your Amazon Prime account, I want to give you the one big caveat I have found.
You can manage more than one QNAP from a single point, but they are not redundant storage.
What I mean is there are not 2 controllers in these unit operating in either an active/active or active/passive configuration. This mean they are a single point of failure.
What does this mean?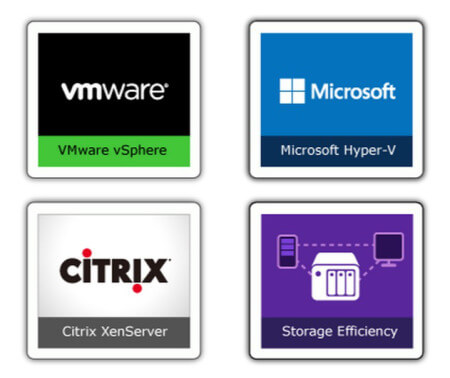 It means extra care will be needed to design around this limitation. Which by the way is how I have learned to design for all storage platforms anyways because I have seen even best of brand storage fail (even those with active/active fault tolerance).
Am I saying move all your VMs to QNAP? No.
But I would move lower environments and backups there and get these workloads off more expensive storage. Especially if you are currently sharing the same spindles for Production, QA and Dev. This would free up IOPS for more important VMs.
Does QNAP only support VMware vSphere?
Check this out! Hyper-V, Xen Server, and VMware are fully supported. And QNAP offers a plugin for vCenter that makes using this white box storage alternative a seamless solution that plugs right into vSphere.
Does QNAP support VDI?
I thought this question would come up, next we'll cover another problem QNAP can solve – I'm talking about costly virtual desktops.
4. Alternative for Citrix Xen Desktop & VMware Horizon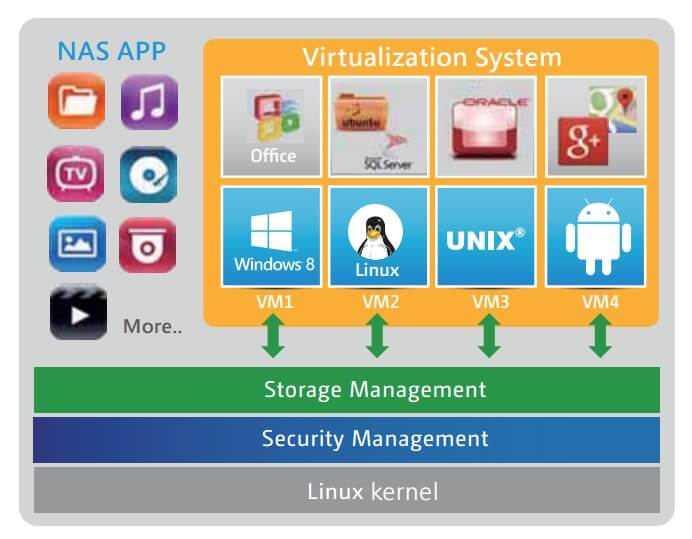 If you have been toying with the idea of setting up virtual desktops then I suggest you look at the QNAP vNAS Virtual Station as part of your proof of concept.
You will be amazed at the flexibility these white box storage servers have.
Aside from being highly customizable with drive and software configurations, they also sport Intel and AMD multi-core processors that can be combined with up-to 32GB of memory.
A fully loaded QNAP is a powerful data storage servers that can be turned into virtual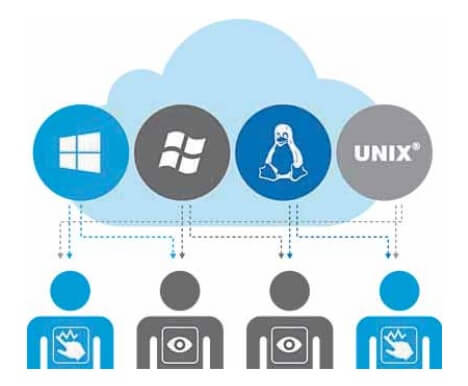 desktop stations using the QTS software and KVM.
That's right, QTS runs on Linux which taps into KVM to create virtual desktops. How sweet is that?
Does QNAP Virtual Station cost more? No.
There is far too much on this topic for me to cover now but I can say from my testing that setting up virtual desktop systems on a QNAP is far easier than installing and configuring Xen Desktop or Horizon. And there isn't any additional licensing cost.
What OS can I install on QNAP vNAS?
QNAP Virtual Station can simultaneously run multiple instances of Windows, Linux, Unix and Android VMs. As long as your system has resources available, you can keep adding VMs.
Are you starting to see why I compare QNAP Turbo NAS with a Swiss Army Knife?
These are truly amazing devices that can be easily customized to handle just about every storage or server problem faced in small, medium or large organizations.
We're almost done. Only one more storage problem to solve before we wrap up.
Watch This QNAP Virtualization Station Video
5. Big Storage Costs Are Eating Up The Budget
Let's talk about the elephant in the room…
I've been dealing with storage and server infrastructure for almost 2 decades and during this time I have seen the crazy things admins and vendors do to squeeze more gigabytes or IOPS out of their limited SAN/NAS.
What crazy things am I talking about?
Let's start with de-dupe and thin provisioning.
Both of these technologies leverage and what have we learned since the stock market crash of 2008? Eventually all good things come to an end, right?
Call this what you want. I call leveraging – oversubscribing!
And here's why we leverage:
Because the high cost of buying more storage forces admins to make ends meet.
Joe, where's your pride. Isn't QNAP cheap network storage?
I realize the pride that goes into buying best of brands. But I am going to share the truth of having been on both sides – as a system engine and as a manager.
The real truth is – best of brand storage fails just like cheaper brands. No SAN or NAS is perfect. And best of brand support can suck, just like the cheap one, too!
But I am not comparing QNAP to any best of brand storage. No! Absolutely not! That's not my point for this review.
However, if you want to ask me if QNAP can provide:
Low cost storage for backups and archiving?
Low cost storage for virtualization?
Low cost storage for storing and sharing files?
And a low-cost solution for virtual desktops?
The answer is YES! Let me say it again…
Yes, QNAP can do all this and more.
As for my pride, here's what I have to say. Because of the utility this white box storage solution offers, I'd say it has more value built into it than most big brand storage solutions.
Do I have your attention? I thought I was only going to cover 5 topics in this review but I decided to add a bonus since it has been going so well.
Bonus: Training Lab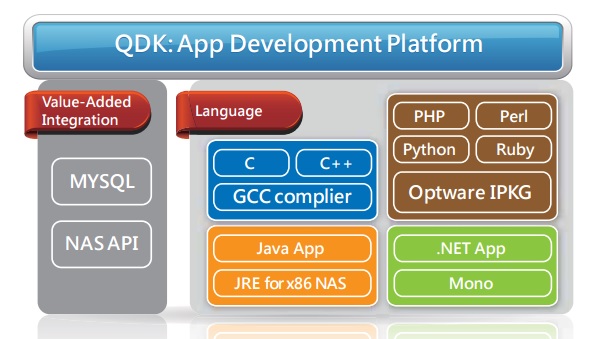 Can your big storage solution do this?
The QNAP QTS software is a perfect solution for creating a DevOps lab. It already has an Application Development Platform built right in.
All you do is click a button to set up a LAMP server that can be configured with any Linux-based Open Source Software available online including: OpenStack, Chef, Ansible, and Jenkins. You can also run Docker at the same time.
Or you can click a few more buttons and spin up a Windows server VM and create an IIS .NET lab.
All this can be done with the smaller 2 bay Turbo NAS…
>> Click here to Tweet this Review <<
Before we wrap it up let's review:
I love technology. Even if its low budget.
Is QNAP going to be the right choice for everyone? No.
Although, if you are looking for a white box storage alternative to get you by until you decide which big storage option or VDI solution you want to use on an enterprise scale, QNAP can fill the gap.
You decide:
In this review I've only scratched the surface on the 5 or 6 topics we covered. Do your own research and let me know if you also think this white box storage server rocks?
Then come back and share your comments and feedback below. Also, how you are using your QNAP?
If you enjoy this post about white box storage, I also recommend you read about white box servers.