Seems like a lot of people are comparing XenServer vs ESXi so I thought I'd update this post with new data. (revised 6/4/2012)
In the blue corner what VMware has to say:
Comparing VMware vSphere Hypervisor, Citrix XenServer and Windows Server 2008 with Hyper-V
And in the red corner here's what Citrix says, too:
Technical and Commercial Comparison of Citrix XenServer and VMware vSphere
Looks like we have a split decision that will quire you to test for yourself.
Original Post
I remember two years ago when XenServer (XenSource) used to come as a free package in some Linux distributions, then Citrix scooped them up and I thought – all good things must come to an end. The same thing happened with VMware Server.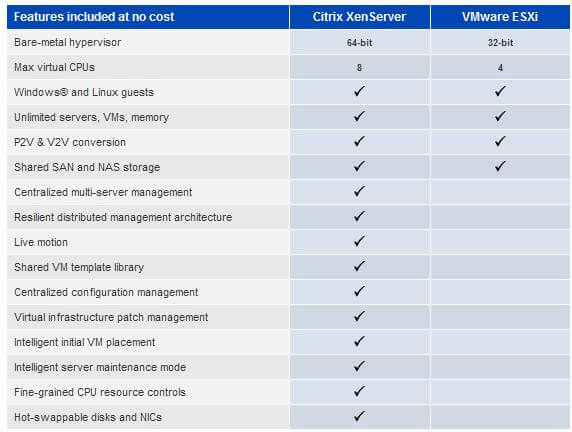 Well, today I was reading through the virtualization news and I noticed an article about XenServer that caught my eyes, "Is Citrix the Real Challenge to VMware?" by Jeff Vance.
Hmm, I'm sure some would like to think so, but I think Microsoft Hyper-V will soon give VMware a run for their money as soon as they can get it to stop crashing and hanging up.
XenServer on the other hand has been around for a while and is slowly gaining more market shares from customers who want more than just free ESXi.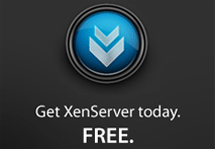 I visited Citrix.com and found a table comparing free XenServer with free ESXi and I thought – something must be wrong because Citrix is sure giving a lot away for free?
Then I realized their strategy takes VMware's free ESXi and Microsoft Hyper-V 2008 to the next level. Just like a drug dealer giving away free samples of "crack", once you install and "Live Motion" a few times, you're hooked and then the cash starts flowing for management tools. Capacity planning, server consolidation, monitoring and forecasting tools will all cost you dearly, so go on – just install and Live Motion, it's fun, it's cool and it's free… However, ESXi still holds the belt for now.
Citrix Interview Questions you should be ready to answer.