Instant Chef Starter by John Ewart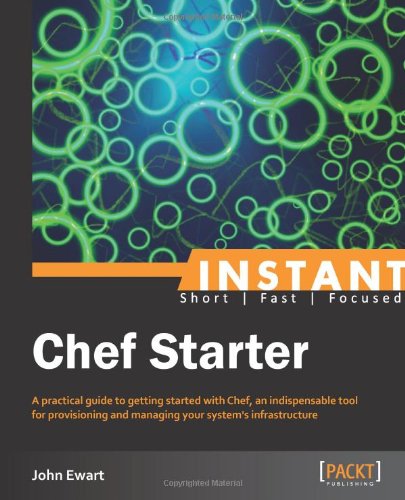 Get Started Now!
"Instant Chef Starter" is a hands-on guide to managing your infrastructure.
You will learn the benefits of using Chef as well as how to install, configure, and use the set of tools provided.
The book will also cover developing recipes for use with Chef to install software and maintain configurations so managing dozens of servers is no more difficult than managing one.
About Instant Chef Starter
This book covers installing your own Chef server to manage your infrastructure and software configurations.
Discover where you can find existing templates for managing software packages and operating systems and then learn to write your own.
After you have done that, learn how to apply operations, execute scripts, and manage configurations across an entire network with only one command.
A practical guide to getting started with Chef, an indispensable tool for provisioning and managing your system's infrastructure
Learn something new in an Instant! A short, fast, focused guide delivering immediate results.
Chef for Beginners
As any systems administrator will tell you, managing one server can be challenging, let alone a dozen or more.
With Chef, you can make managing dozens or even hundreds of servers manageable and learn how to configure and deploy new servers.
Learn how Chef fits into your infrastructure, install the software, build your own recipes, and provision servers with ease.
Build your own custom recipes
Get to grips with a new technology, understand what it is and what it can do for you, and then get to work with the most important features and tasks.
This is a practical Starter guide which helps you gain the skills needed to learn Chef.
Who this book is written for
This book is aimed at developers and system administrators who are looking for ways to better manage complex infrastructures in a consistent fashion.
No previous experience with Chef is assumed.
Install your own Chef server
Provision new servers programmatically.

Download and use existing recipes.

Build your own custom recipes.

Use data bags to describe complex infrastructure data.

Automate operations across an entire network or a subset of it.

Scale your infrastructure from a handful to hundreds of servers.
What Chef can provide you as a systems administrator
Learn 

something new in an Instant! A short, fast, focused guide delivering immediate results.

Learn the core capabilities of Chef and how it integrates with your infrastructure.

Set up your own Chef server for managing your infrastructure.

Provision new servers with ease and develop your own recipes for use with Chef.