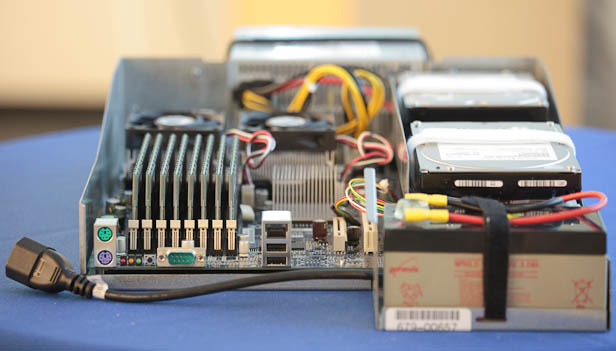 Intel [is] Inside White Box Servers, too!
Before we dive into our list of 7 types of server hardware alternatives, let's start with an important thought.
Look…
Google and Amazon are building their clouds on customized server platforms that have motherboards, disk drives, and backup batteries in open enclosures instead of fancy name brand cases with cool face-plates and someone's logo.
And what's my point:
My point is this.
To cloud providers like Google and Amazon; compute, space, bandwidth, efficiency and lower infrastructure costs are key to their success. Let that sink in…
I'm not saying we should all build our own servers but do we need most of the stuff we're buying?
Sure if you want whistles and bells [which you may never have time to properly set up because your Ops team is too busy working on day-to-day or projects] then Buy UCS or another top brand.
But if all you need is compute that can be swapped out when something dies, then white box servers are good enough.
Let's keep going.
Married To Vendors
The problem though, is too often IT departments act like they are married to vendors and they lose their objectivity. Vendors hanging around the office and bringing free lunches and swag makes for a bad case of "Beholding".
Beholding is when someone gives you something free, and then you feel like you owe them something back.
Are you beholding?
Hang in there because shortly in this VMinstall Server Guide I'm going to provide a list of white box server alternatives you can use to build your next cloud. And to really freak people out, soon I will write about white box network hardware…blasphemy, right?
Wrong.
Consider this when comparing types of servers…
Intel makes their money on chips, and pretty much they sell the same chips to everyone. Yes, I know not all hardware is made the same…but why do we build clouds that can do vMotion, or Live Motion or XenMotion and have HA?
I'll tell you why.
So we have redundancy and so we can replace hardware without taking an outage.
vSphere and other alternative virtualization platforms are perfect for low-cost hardware and yet we let vendors talk us into best of brand hardware and ridiculous support agreements.
Unless you are NASA and require real-time compute because lives depend on it, you should be considering lower cost server hardware alternatives.
And a couple of other reasons to consider this is…
If your hardware architects have done their job and built-in room for failure (n + ?), and your software architect has designed your app to work across multiple servers in an App pool (preferably each on a different host), then you can take an outage on a VM, disk, motherboard, NIC, switch, load balancer or host, and your app will still be online.
Now granted, depending on the sophistication of your App some users may get bounced out, but that's a fixable problem. And these problems can be solved with code instead of throwing more costly hardware at them.
Enough of my ranting, let's get to what brought you here. Server hardware alternatives for building clouds.
7 Server Hardware Alternatives (updated to 7.1 options)
Best of Brand Server Options:
1. IBM Servers –  Long before HP and Dell, IBM was building server and desktop hardware. And over the years I've had my share of opportunities for supporting iSeries hardware running AIX, and xSeries running Windows, Linux and VMware. No complaints, however you will pay for the brand and higher quality. Click Here >> To View IBM Server Hardware Options
2. HP Servers – Once upon a time there was Compaq, And they were purchased by HP. And now we have HP Proliant servers. HP is another hardware platform I've spent a lot of time on. HP rack  servers and blades are great for running raw metal servers with Windows and Linux, or for building high density virtualization server infrastructures. I've had success with c7000 chassis and BL460 g6/g7 blades, and with DL380 G6/7/8 and DL580 G6/7 running VMware vSphere. The only real problem I recall was managing firmware upgrades and the frustration caused by generation changes.  Click Here >> To View HP Server Hardware Options
3. Dell Servers – I'll be honest. As an alternative to going all the way white box, I would take Dell PowerEdge server hardware all day long. Why? Because Dell makes great general purpose servers that can do it all. And pound for pound Dell servers are as good as IBM and HP. Another value-add is Dell has a sweat spot for lower TCO when building a vSphere clouds over other top brands. Click Here >> To View Dell Server Hardware
4. Cisco UCS – If you have a Cisco network, I can bet your network team is running a rogue Cisco UCS POC right under your noise. How can I say such a thing? Because I've seen it happen in 3 places I've worked. Cisco is notorious for giving away UCS chassis and blades in an effort to seed businesses with their server hardware. The problem I see here is long-term cost will go up, and you will find yourself refereeing network and server teams that both feel they own the UCS platform. My Beef here is I am opposed to any vendor LOCK-IN, and Cisco is at the top of the list. Click Here >> To View Cisco UCS Servers hardware
If you are hosting your applications in the cloud, chances are you're running on white box hardware or a Franken-Server similar to what's in the picture above!
White Box Server Vendors:
5. Super Micro Servers – Super Micro has been around for a while now and honestly, I've never had the opportunity of supporting one of their pieces of hardware. It could be due to the lock other big server brands have, or the stigma of saying you are running on Super Micro? I guess it would be like saying you drive a Hyundai instead of Honda. For the record Super Micro has a large selection of server hardware to choose from with similar configuration of Dell and HP. And they also have blade and chassis for high density computing. Click Here >> To View Super Micro Server Hardware
6. ABMX Servers – Now we are talking true white box servers. On the ABMX website you can choose from a variety of 1u, 2u, 3u, 4u and blade server hardware configurations. Pick any drive, controller, CPU, PS, or memory combination from a drop-down. Just like a candy store at the mall, ABMX has everything a server hardware guru could ever dream of. ABMX was founded in 1994 and is located in Orange County California. Click Here To View ABMX Server Hardware
7. Servers Direct – Another truly white box server outlet that has it all just like ABMX, except they offer a variety of DIY barebones and custom systems. And Servers Direct resells Super Micro Servers and other white box brands. With an amazing white box server inventory to choose from, Servers Direct is also located in Sunny California, and has been doing business for 10 years. Click Here >> To View Server Direct White Box Hardware
7.1. Build Your Own – Open Compute Designs are becoming more popular and the Open Compute Project is the place to visit for ideas on open server, storage, network and data center designs. Click Here >> To Visit the Open Compute Project.
7.2 Iron Systems (new) – I recently started purchasing all my servers from Kawal at Iron Systems. They build a solid white box server made from Super Micro parts. I have been very happy with their servers for building ESXi and Xen clusters. They offer low cost servers, as well as white box network and storage products. Click here >> To visit Iron Systems and ask for Kawal or email him: Kawal@ironsystems.com
Bonus: Low cost brand name server parts. Drives, Memory, CPUs, Power Supplies, Controllers and more. Click Here >> To View
Wrap Up
Well, there you have them. Seven brands and vendors who offer too many server options to compare or review. And each has hardware solutions that are prefect for your budget or ego.
A final thought to leave you with…
Given most chips and components are made by the same people in the same factories; the real differences you are paying for is brand name, features, and support.
So let's look further into support – most major brands are moving their support off-shore to the same outsourcing companies.
Now we are down to features and brand name.
Do you really want to pay 20 – 40% for features you won't use? No.
And now we're down to brand name:
From what I've found, Google, Facebook and Amazon don't seem to mind using white box servers. Thanks for your interest.
Read Related Topics:
FREE EXCLUSIVE TIPS
Enter your name and email below to get personal access to proven VMware, DevOps and Cloud tips...
Thank you.
Something went wrong. Please try again.