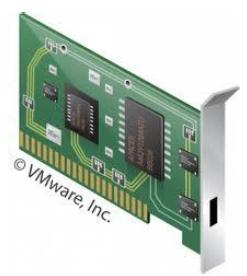 Which VMware VNIC is Best?
I recently attended a tech talk where Doug Baer, VCDX, was speaking about all the different VMware VNIC adapters there are now to choose from for vSphere.
After the meeting, I spoke with Doug and asked him if I could share his VMware VNIC data on my blog.  He gave me his approval so here it is:
VLANCE
Emulated version of the AMD 79C970 PCnet32 LANCE NIC
An older 10 Mbps NIC
Drivers are available in most 32-bit guest operating systems except Windows Vista and later.
A virtual machine configured with this network adapter can use its network immediately.
VMXNET
A virtual network adapter that has no physical counterpart
Optimized for performance in a virtual machine (paravirtualized)
VMware Tools contains the driver for this adapter
Flexible
The Flexible network adapter identifies itself as a Vlance adapter when a virtual machine boot, but initializes itself and functions as either a Vlance or a VMXNET adapter, depending on which driver initializes it.
E1000
Emulated version of the Intel 82545EM Gigabit Ethernet NIC
Driver included only with the following guest operating systems
Linux versions 2.4.19 and later
Windows XP Professional x64 and later
Windows Server 2003 (32-bit) and later
Jumbo Frames (ESXi 4.1+)
VMXNET 2 Enhanced (Good)
Based on the VMXNET
•rovides high-performance features commonly used on modern networks
Jumbo frames
HW offloads (TSO, TCP/IP checksum)
Only available for some guest operating systems and on ESX/ESXi 3.5 or later
VMXNET 3 (Best)
Next-gen paravirtualized NIC (10Gb), designed for performance
Not related to VMXNET/VMXNET 2
All the features of VMXNET 2, plus several new features
multiqueue support
a.k.a. Receive Side Scaling (Windows)
IPv6 offloads
MSI/MSI-X interrupt delivery
Faster than e1000(e), less CPU overhead
Thank you, Doug!
Still not sure which vNIC to use? We'd like to recommend reading our new guide about the best step by step virtualization training available.