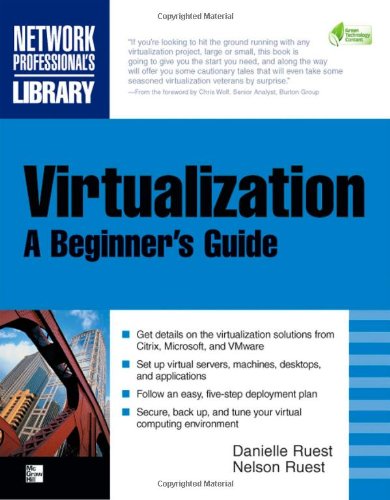 About Virtualization, A Beginner's Guide
I came across an interesting book today, Virtualization, A Beginner's Guide,  that seems like an interesting read for those new to the virtualization topic and are investigating which solution is best for their business or IT needs.
Here's what authors Daniel Ruest & Nelson Ruest have to say about their book:
Transform your IT infrastructure into a leaner, greener datacenter with expert guidance from a pair of industry professionals.
5 Step Deployment Plan
Through clear explanations, examples, and a five-step deployment plan, Virtualization: A Beginner's Guide shows you how to maximize the latest technologies from Citrix, Microsoft, and VMware.
Consolidate your servers, set up virtual machines and applications, and manage virtual desktop environments.
You'll also learn how to implement reliable security, monitoring, and backup procedures.
Migrate to a dynamic, on-demand data delivery platform!
"If you're looking to hit the ground running with any virtualization project, large or small, this book is going to give you the start you need, and along the way will offer you some cautionary tales that will even take some seasoned virtualization veterans by surprise." –From the foreword by Chris Wolf, Senior Analyst, Burton Group
Key Takeaways:
 

Select a virtualization platform and develop roll out plans

Perform pre-deployment network and workstation tests

Configure virtual machines, storage devices, and workloads

Set up and secure a fully virtualized and highly available server environment

Manage a centralized, on-demand application delivery framework

Handle volatile and persistent desktop virtualization

Use hypervisors to facilitate workload delivery

Implement failsafe system backup and recovery strategies