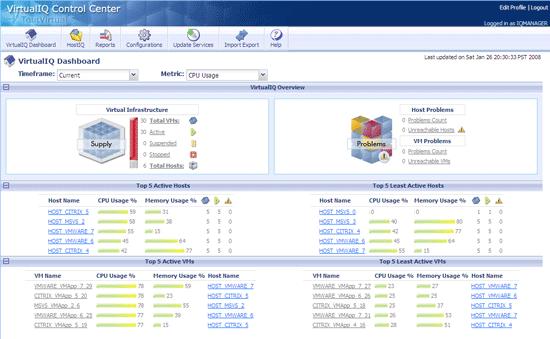 Trilead VM Explorer – Free VM Tool – ToutVirtual VirtualIQ Pro – Citrix, Microsoft, Novell, Oracle and/or VMware >>> Download <<<
Last week I wrote about Trilead VM Explorer for managing VMware ESX and 3i hosts without vCenter, today I am writing about VirtualIQ Pro which looks like a similar product except VirtualIQ Pro is hypervisor-agnostic supporting both Type I and Type II hypervisors.
Here's what ToutVirtual says about their VirtualIQ Pro:
Enterprise Benefits
Compare and choose the right Hypervisor
Compare and choose the right Hardware platform
Plan for Host Capacity
Plan for Virtual Machine Capacity
Plan for Virtual Machine Density
Understand the Impact of Hypervisor
Get Visibility into Inter-VM, Intra-VM Resouce Dynamics
Manage Physical and Virtual Servers
Works without VMware VirtualCenter, Microsoft Virtual Machine Manager or System Center
Manage 5 CPUs and 25 VMs for FREE
Of course the free version has its limitations but there's plenty going on in VirtualIQ Pro that makes it worth an evaluation, especially if you use more than one virtual platform:
VMware ESX
VMware ESXi
VMware Server on Windows
VMware Server on Linux
VMware GSX Server on Windows
VMware GSX Server on Linux
Microsoft Windows Server 2008 Hyper-V
Microsoft Virtual Server 2005 R2
Xen running on Novell SUSE Enterprise 10
Oracle VM
Citrix XenServer
Wow!
Read more about Trilead VM Explorer on the SpiceWork Community Forum.