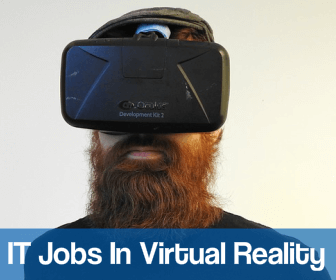 OK, I admit I've been playing around with Virtual Reality, A.K.A. VR.
Yup, I'm guilty as charged.
But after listening to Tony Robbins hype-up VR on his podcast, I couldn't help myself.
Don't worry, I'll share the link to the podcast in a minute….
Spoiler Alert
A new IT Job Trend is coming!
Listen:
You know how I love sharing news about new job trends I see coming.
Well, I wanted to be the first to tell you that VR is going to be huge.
There will likely be 100s of new gizmos and 1000s of uses for VR that will infiltrate our lives.
All this "NEWNESS" means a lot of people will be busy creating new infrastructure and web services.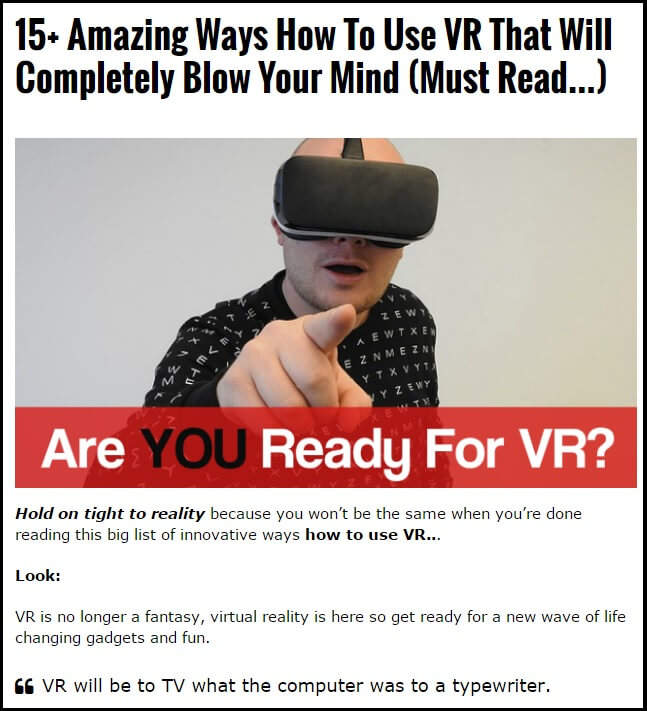 The PIC above is from a list I created on "How to use VR" while I was moonlighting for BuyBuyVR.com.
Go ahead and click the link and read the full list, listen to the full podcast, and watch the full video.
Then you'll see why I believe a new job trend is coming for IT Pros.
BTW, I wasn't looking for a job trend when I was researching VR for my article. But then I started to wonder.
Hmm…
What if VR creates a new sector of tech related jobs?
So I did a bit of digging and I poked around the leading VR content creator websites.
Bingo!
My hunch is correct and I found bunches of new job opportunities.
Best of all, these companies are new and still innovating, which means people with good skills and ideas are likely able to make a big difference.
That's my mojo on VMinstall.com because making a difference is what I teach!
But I guess you can stay where you are if you like doing day-to-day grunt work…I digress.
Virtual Reality Jobs
Let's dig in to this gold mine of jobs I found for YOU.
First off, look at this awesome list of Tech Jobs at YouVisit.
YouVisit  looks like an extremely modern VR content creator and has links to virtual tours hosted on their website. (Explore YouVisit)
Android Developer
Backend Developer
DevOps Engineer
Full Stack Developer
Full Stack Senior Developer
Graphic Designer
Senior Interaction UX Designer Mobile
Project Manager
UI Designer Mobile
Unity Developer
And here's another sweet list of Tech Jobs at NextVR.
NextVR  is another state-of-the-art VR content creator and does LIVE streaming in VR of professional sports and concert events. (Explore NextVR)
Android Developer
C++ Software Developer
Network Engineer
Software Engineer/Backend API Developer
Linux System Administrator
And yet another amazing list of Tech jobs at JauntVR
JauntVT creates VR and AR content and has a long list of videos that include Paul McCartney in 360 VR. (Added on 8/23/2016)
Hardware Engineer
Sr. DevOps Engineer
Engineering Lead, Consumer Applications
Engineering Lead, Consumer Applications
Front End Web Engineer
Lead Engineer, Mobile Platform
Software Engineer, Android
Software Engineer, Full-stack
Software Engineer, iOS
Software Engineer, Web
Sr. Software Engineer, Audio Production Tools
Sr. Video Processing Engineer, Codecs
User Experience and Design
Product Designer – Web
Senior Product Designer – VR App
OMG, what an incredible time to be a developer – look at all these Dev jobs!
Note: The jobs above were available as of 8/23/2016, check the website for current job postings.
I know what you're thinking.
These are the same jobs I see posted everywhere.
STOP! Because you're missing the big picture.
These jobs titles may sound familiar, but the secret sauce I'm talking about is where they are.
They're not at Polaroid, a company that went bankrupt because it didn't stay up with trends.
No, they're at the front-end of a new technology trend that will eventually replace boring TV with LIVE streaming VR.
Get your head straight!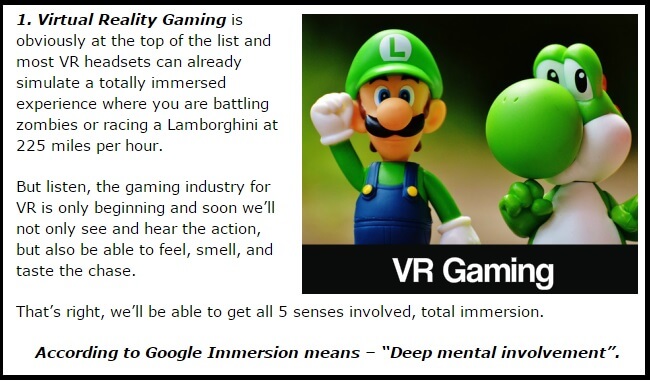 Look:
I'll say it again…
The difference with the companies I named above is their focus is virtual reality, a new and emerging technology. I'll ask you again to read the post above about "How to use VR" and you'll see that Goldman Sachs expects the VR industry to grow to 80B.
Does that big number get your attention?
That means a lot of new jobs for IT skills.
If you're wondering if there will be VMware jobs in VR – I don't know.
But looking at the job lists above, there are DevOps and Linux jobs, which is a fantastic start for me…
And I would bet most of their servers and web services are hosted on AWS or in Google's cloud because they need big network pipes for streaming video and probably serious storage capacity.
Although, I could be wrong about the cloud vs on-Prem data centers because I noticed one guy in the NextVR YouTube video with a Pure Storage Logo on his tee-shirt. Yea! Free Advertising! 🙂
Apply Now For VR Jobs
Maybe you just graduated from a tech-school or university, and you're looking for a new career.
VR sounds like a great place to focus your next move.
Best of all, you'd be getting in at the beginning of a new trend.
Remember what I said a while back about VMware in the 90s? I saw a new job trend coming and acted fast. Well, it's happening again.
If you're ready to take action now and the job links above are not in your area, then here's another link where you can search for VR jobs.
Get going now and you'll be getting in on the ground level… As always, Good Luck!