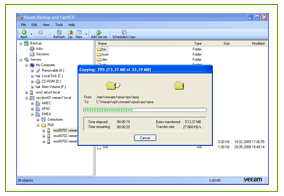 So you just installed your first pair of VMware ESX or ESXi hosts and you're wondering how you can move VM guest servers from host to host without vCenter.
Well, here's the answer – FastSCP.
FastSCP lets you manage VM folders through a nice GUI interface.
It's not vCenter but it will do the job until you can get up-to-speed with vCenter.
Here is what Veeam says about FastSCP:
Single console – Multiple Windows, Linux, ESX and ESXi servers file management in a single console without re-entering logins and passwords, and automated sudo for ESX and Linux servers to save even more of your time.
Flexible file management – FastSCP allows both interactive file management via drag-and-drop or copy-and-paste using familiar Windows Explorer-like UI; and scheduled file copy jobs.
ESX(i) to ESX(i) copy – FastSCP makes it possible to perform file operations between standalone ESX and ESXi hosts (or between hosts in different vCenters) with ESX(i) to ESX(i) direct file copy. You can browse, copy, edit files and attributes within a familiar interface, whether you're copying files to ESX or to a desktop.
Disk space preallocation – Veeam FastSCP performs automatic disk space preallocation on target ESX storage to prevent fragmentation.
Email reporting – After completing the scheduled file copy job, Veeam FastSCP can optionally send an email with the job statistics and execution results.
Easy file editing – Built-in file editor for tweaking ESX and Linux configuration files, with ability to edit Linux file permissions (chmod) in a Windows GUI.
Integration with Veeam Backup
Bonus Tip:
You can't beat that for free*.
Get your free copy of Veeam FastSCP <Download>
*Note: ESXi is not supported in the Free copy of FASTSCP
Read Related Topics About VM Backup Software: