Yesterday I saw a demos of the vKernel CpacityVIEW tool that is a free download from vKernels website. It sums up some the more complete tool like Capacity Analyzer into one page. Which is a good thing if you ever use the Capacity Analyzer tool. Aside from the huge product links on the dashboard, it's worth trying out.  (download)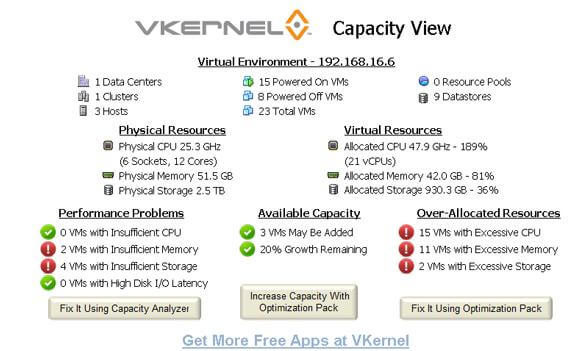 Capacity Alerting
CapacityVIEW collects CPU, memory and storage allocations and utilization levels. It then analyzes this data to provide you with desktop Capacity alerts concerning:
Virtual machine I/O Latency
Under-provisioned memory, CPU, storage
Low capacity for new deployments
Over-provisioned memory, CPU, storage
Deployment Statistics
You get an easily accessible, desktop view to how your virtualization resources are deployed. This valuable information allows you see the efficiency of your environment and how it can be improved and includes:
# of VMs, hosts, data stores, clusters, etc.
Total available CPU, memory and storage
Resources allocated as a % of available capacity
FREE EXCLUSIVE TIPS
Enter your name and email below to get personal access to proven VMware, DevOps and Cloud tips...
Thank you.
Something went wrong. Please try again.